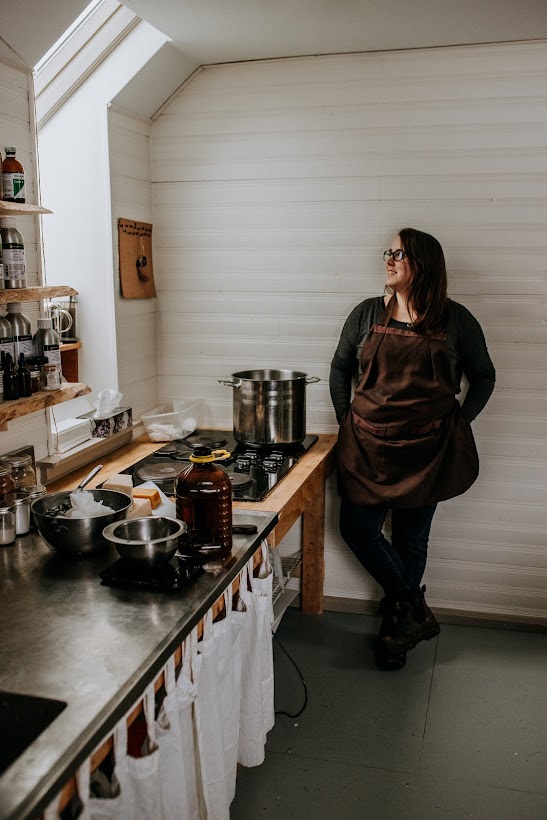 Emily Rogers is an entrepreneur, small scale farmer, artisan, parent, and owner of Hen of the Woods Artisan Acres.
  Emily's life path has been steady but meandering, like a tree with a strong trunk and many branches. Only now, looking back, is it clear that each side shoot, spur, and twig were part of an evolving whole.
  The seed for Hen of the Woods was planted twenty years ago at a friend's kitchen table. Curious to learn how to make their own natural body care products, the two friends threw themselves into creating and sharing their handmade soap and other products with friends, family, and local markets.
  Emily followed her curiosity deeper and, for several years, immersed herself in the world of herbology, aromatherapy, and the art of traditional soap making. Then, a forking branch led her into the healthcare field.
  A steady career as a Registered Massage Therapist saw her through the early years of marriage, half a decade in Fredericton, and finally a return to the Annapolis Valley to grow her family and establish a farm.
  Another kitchen table gathering brought her full circle back to soapmaking: a group of like-minded women and mothers, in an intimate workshop setting, rekindled her love of soapmaking and sharing her knowledge and values with others.
  Emily throws herself into every passion project with tenacity and an enterprising spirit. – whether breeding and raising heritage chickens, living in a yurt for a year with small children and no running water, learning to grow mushrooms, or striving for zero waste in her business.
  Her commitment to natural, ethical, local, and sustainable is unwavering – and she strives always to bring her life and work in alignment with these deep held principles.
  Emily lives with her husband, their three children, dog, cats, and dozens of heritage chickens. As a family, they play, grow and learn on 30 acres of field and forest at the base of the South Mountain in the Annapolis Valley.